The Cyagen Knockout Catalog Models repository offers over 16,000 ready-to-use heterozygous gene knockout (KO) mice to researchers worldwide in as fast as 3 months. In addition to the standard heterozygous model deliverables, we can also provide a variety of Animal Model Supporting Services, such as homozygous breeding and phenotypic analysis.
To serve researchers interested in our high-quality mouse models, we are opening a limited time "Ultimate Knockout Catalog Models Offer" for at least $2,000 credit towards eligible gene knockout (KO) mice projects - but wait, there's more!
Save over $3,950 by choosing ONE of our special offers for Animal Model Supporting Services with purchase of a regularly-priced KO Catalog Model:
Homozygous upgrades available for FREE
(Save $3,450!)
Save $3,450+ on Custom Breeding
Save $3,950+ on Phenotype Analysis
Place an order from the Knockout Catalog Model repository by December 31, 2022 to lock-in the savings. Please complete the form with your project details and our experts will follow up with you.
<< Complete the Form to Save Up to $3,950+ Now
Eligible Products
Standard Price
Promotional Price
(Choose ONE)
Deliverables
Knockout Catalog Models
$9,999
$7,999
($2,000 off!)
A minimum of 3 heterozygous mice
Homozygous Breeding
$3,450
$3,450

Free Upgrade!


(Save $3,450!)
A minimum of 3 homozygous mice*
Custom Breeding
Varies based on services performed.
Save $3,450+
Please submit an inquiry for details
Phenotype Analysis
Services include: Ultrasonography, Blood Biochemistry, Histology & Pathology, Metabolic Phenotyping, Gene and Protein Expression, Cell Function Testing, Behavioral Testing, etc.
Save $3,950+
Please submit an inquiry for details
*We cannot guarantee the successful generation of homozygous animals due to the variety of effects that may occur in homozygous mutant mice – including impairment, infertility, and lethality. Contact our experts for insights specific to your gene(s) of interest.
Search by your gene of interest on our Knockout Catalog below to discover your next KO mouse model. Submit an inquiry and our team will be in touch within 48 hours to provide you with a project quote.
Cyagen Knockout Catalog Models
Over
16,000
KO and cKO Mouse Models |
100%
Pure B6 Background | Delivered as Fast as
3
Months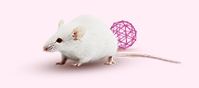 Terms and Conditions
Promotion Period:
Place order by December 31, 2022 to qualify.
Eligibility:
End customers in the United States, European Union, and United Kingdom. Contact us for eligibility in other regions or for commercial use. This offer is not valid in conjunction with other special promotions or discounts.